"No book before this has so accurately captured the harrowing life of the free-lance artist trying to make a career in the music business as Blair Tindall's "Mozart in the Jungle".
--Bill Moriarity, president, New York musicians' union 1993-2003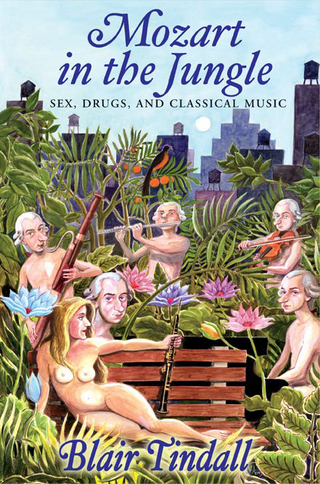 WRITER AND OBOIST BLAIR TINDALL writes about classical music for the New York Times and has performed, toured and recorded with the New York Philharmonic. She completed "Mozart in the Jungle" during a fellowship at The MacDowell Colony.

Mozart in the Jungle, was optioned by Jason Schwartzman, who with his cousin Roman Coppola, director Paul Weitz, and Broadway wunderkind Alex Timbers, created a comedy series of the same name. The show debuted as part of Amazon Studios' second season in 2014, and completed shooting its fourth season in September, 2017 (scheduled to air early 2018). Mozart in the Jungle stars Gael Garcia Bernal, Bernadette Peters, Malcolm MacDowell, and Lola Kirke; Blair is credited not only as the "based on" author, but also as consultant and actor; she is also heard as soloist on its soundtrack.

Free for Amazon Prime members, the show can be viewed on computer, smart TVs (or those with HDMI devices like Roku or Fire) and on mobile devices with the Amazon Instant Video app.

**A RICH AND VARIED MUSICAL CAREER
As an oboist, Tindall enjoys a musical career ranging from the classical stage of Carnegie Hall to the late-night ambiance of New York's famed Blue Note Jazz Club. She presented her critically acclaimed Weill Recital Hall debut in 1991 and captured a top prize in the 1988 Lucarelli Competition for Solo Oboists. A busy classical artist, Tindall has appeared both at home and abroad with the New York Philharmonic and its fifteen-member chamber ensemble and has played principal oboe with the New York Philharmonic, the San Francisco Symphony, the Orpheus Chamber Orchestra, the Orchestra of St. Luke's, the New York City Ballet and Opera Orchestras and the New Jersey Symphony. She has also appeared with the Pittsburgh Symphony, the San Jose Symphony, Ballet and Opera, the New England Bach Festival, Bargemusic, the Lark and Colorado String Quartets and was principal oboist of the Vivaldi Traveling Circus.

A special interest in contemporary music has led to numerous premieres and commissions for Tindall. She presented the world premiere of Edward Thomas' "Images" with the Vivaldi Traveling Circus, and she also collaborated with composer Carlos Franzetti on the first recording of his "Oboe Concerto." Included on the program of her Dame Myra Hess recital in Chicago was Elizabeth Brown's "Boll Weevil," which was written expressly for her, as was that composer's "A Fragile Barrier," which premiered on Cape Cod with pianist Samuel Sanders as accompanist. She has also twice appeared as soloist with the San Francisco Contemporary Music Players.

Tindall can be heard on many film, radio and television soundtracks, including the theme music for National Public Radio's Performance Today as well as soundtracks for the films, "Crooklyn," "Mad Dog and Glory," "A Little Sex," "Twilight" and "Snake Eyes." She was singled out by CD Review magazine for her solo performance on the motion picture soundtrack of Spike Lee's "Malcolm X." A featured artist on jazz trumpeter John Faddis' album, "Remembrances," (nominated for a 1999 Grammy Award), Ms. Tindall has also appeared with Rolling Stones drummer Charlie Watts and his quintet.

Tindall has recorded for the Opus One, Deutsche Grammophon, Chesky, Columbia, Varese Sarabande, Nonesuch and Premier record labels. She has held the solo oboe chair of the Broadway productions of Les Miserables, Miss Saigon, Man of La Mancha, and Aspects of Love, was principal oboist of the Hudson Valley Philharmonic from 1986-99, and she is a voting member of the National Academy of Recording Arts and Sciences (GRAMMY).

**WRITING AND TEACHING IN DIVERSE FIELDS
In addition to her reporting for the New York Times, Tindall writes regularly about environmental issues for Sierra magazine. Her work has also appeared in the Wall Street Journal, the International Herald Tribune, Harvard's Nieman Reports, the Hearst-owned San Francisco Examiner,Yoga Journal, Strings, Symphony, and Art & Antiques. She holds an MA in journalism from Stanford University, BM and MM degrees in music performance from the Manhattan School of Music, and a BCI Certificate in business from Columbia University, where she also studied chemistry, mathematics, economics, and political science while working at night in the Broadway orchestra pits of "Miss Saigon" and "Les Miserables."

Tindall was a staff business writer at the San Francisco Examiner and staff critic-at-large for the Contra Costa Times, a Knight Ridder newspaper in California. Tindall has taught journalism at Stanford University and at Mediabistro both in San Francisco and New York, and has taught oboe at the University of California-Berkeley and at Mills College. In her spare time, she runs, hikes, bicycles, swims; has led SCUBA dives as a PADI-certified divemaster; and has held a technician-class amateur ("ham") radio license since 1979 with the callsign KA2KXS.

Tindall completed a residency at Wyoming's Ucross Foundation in 2005, then wrote as guest arts critic for the Charleston (SC) Post-Courier during the Spoleto USA Festival. She lives in Los Angeles, where she is creating a travel television show about world music and dance.

She has played under the baton of Leonard Bernstein, James Levine, Simon Rattle, Rafael Kubelik, Klaus Tennstedt, Zubin Mehta, Michael Tilson Thomas, Marin Alsop, John Nelson, Witold Lutoslawski, Julius Rudel, David Robertson, Joanne Faletta, Giuseppe Sinopoli, Pierre Boulez, Charles Dutoit, Erich Leinsdorf, Kurt Masur, Jeffrey Kahane, Robert Shaw, Leonard Slatkin, Zdenek Macal, Blanche Honneger Moyse, Pierre Boulez, Christoph von Dohnanyi, Lukas Foss, Hugh Wolff, and many others.